An in-depth explanation of our Lowest Price Guarantee policy
We are proud to provide the spare parts you need at unbeatable prices. If you find any spare parts that display the Lowest Price Guarantee badge cheaper elsewhere, we will price match it, following certain guidelines. (See T's & C's that apply)
How it works
1) Find the product on Marketplace
We will only price match against products that display the Lowest Price Guarantee icon.
2) Click the Price Match Guarantee button
This is located on the right-hand side of each product. Click on the 'Price Match Guarantee' dropdown.
Clicking this will display a 'Request Price Match' blue button, please click the button to request a price match.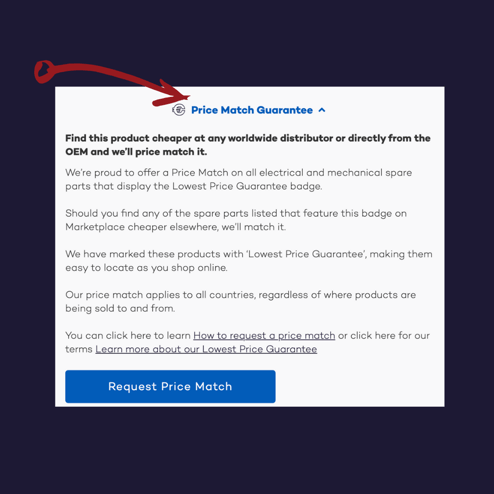 3) Enter your details
We require your:
Company name
Telephone number
Email address
We also ask that you enter the cheaper price you've found elsewhere and evidence of this. Evidence can be either a URL to where the cheaper part is being sold online or an upload of an invoice or receipt.
4) Await confirmation from Machine Compare
We endeavour to get back to you with an answer within 48 hours via email. This includes working days only - weekends and public holidays are exempt.
For more information about what products and prices we will match against and more, see our Terms & Conditions.